Innovations
Our innovative team creates fresh design concepts and challenges conventions through application of our material technology.
TM-Concept
a comprehensive study on polymer innovation in the automotive engine industry, helping CO2 reduction.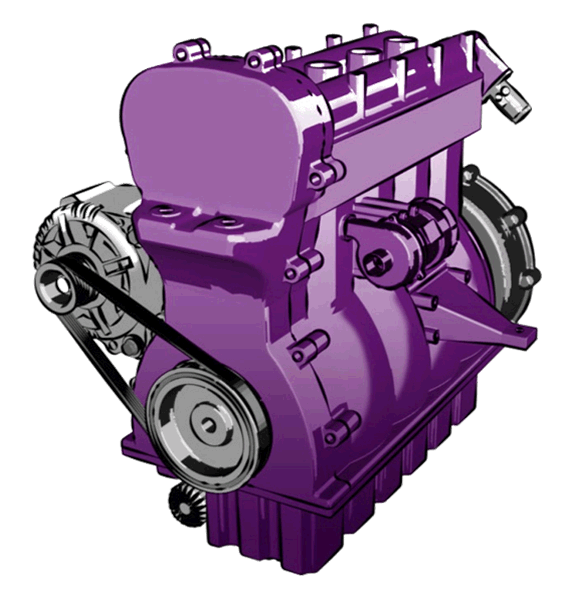 TM stands for "Thermoset-Motor"
---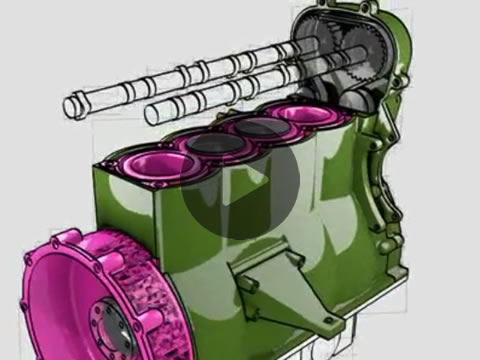 Introduction to TM concept
TM is a virtual engine concept which has been developed in cooperation with different partners (IAV, Fraunhofer ICT).
Our goal was to come up with is a small scalable engine architecture with 4, 3, 2 or only 1 cylinder while using SBHPP Compounds and composites materials (short fiber, long fiber, phenolics, epoxies,…). This engine could be usable as primary engine or as range extender (APU).
High power density/ downsizing (low weight with high performance)
Maximum integration of functions in the composites parts
Good Noise, Vibration, and Harshness (NVH) characteristics
Price/performance
An other important topic is the ecological foot print for making parts out of SBHPP Compounds. The energy – directly related to CO2 emission - required for making part of equal stiffness is very favorable for SBHPP compounds.
Recycling is also considered with a patented chemical recycling technology developed by SBHPP and ongoing material development with renewable resin resources (Green materials)...
---
Structural casing
Our resin & fiber technology enabled SBHPP to challenge the conventional thinking that the case had to be all metal.
SBHPP's research has proven that glass fiber reinforced phenolic cylinder housings manufactured using the injection molding process deliver the same performance as die cast aluminium components but offer a significant reduction in weight, lower engine noise and reduced heat radiation.
Weight reduction is a primary objective for automotive manufacturers under increasing pressure to improve fuel economy and reduce emissions. In addition, life cycle assessments demonstrate that the environmental impact of phenolic composite components over their entire lifetime is lower than that of aluminium alternatives.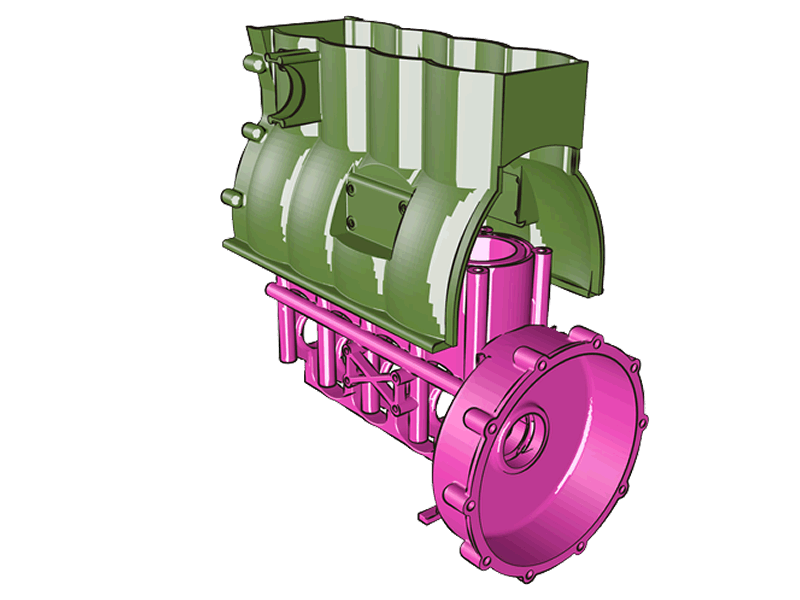 from concept to real prototypes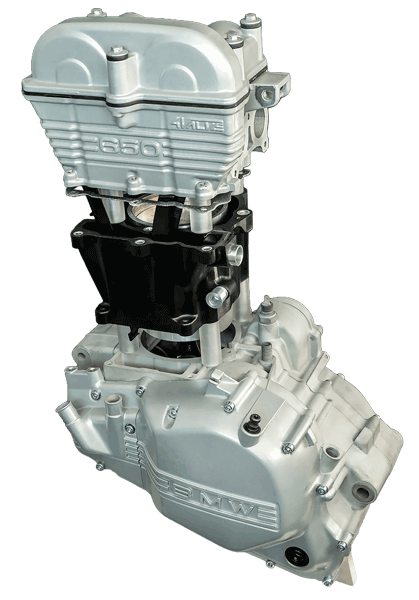 In close collaboration with Fraunhofer ICT, SBHPP-Vyncolit NV in Gent (Belgium) has developed a cylinder block made in glass-fiber-reinforced phenolic composite molded by injection. Compared to the aluminum version, this innovation could save up to 20 percent in weight without added cost and is suitable for mass production.
---
 Information
Call us on +32 9 295 01 00
or send an email to
This email address is being protected from spambots. You need JavaScript enabled to view it.
The glass-fiber-reinforced phenolic composite selected have passed numerous technical challenges.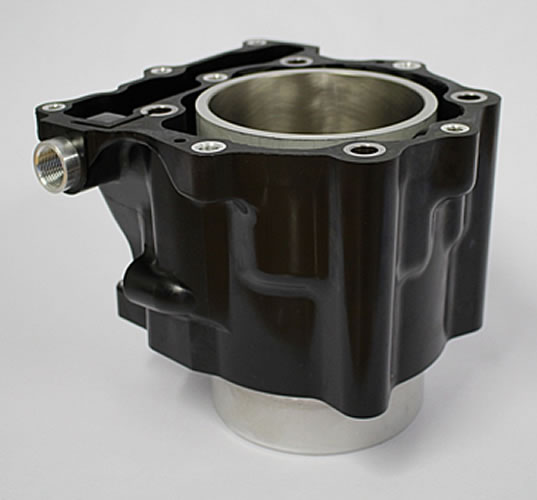 The battery of tests successively made by Fraunhofer ICT shown that the cylinder block in SBHPP material is able to withstand extreme temperatures, high pressure and vibrations without suffering damage.
Moreover, it promises to offer further advantages such as lower running noise as against engines relying exclusively on metal parts. Initial data also indicates that the amount of heat radiated to the environment is lower than that generated by aluminum-based engines.
---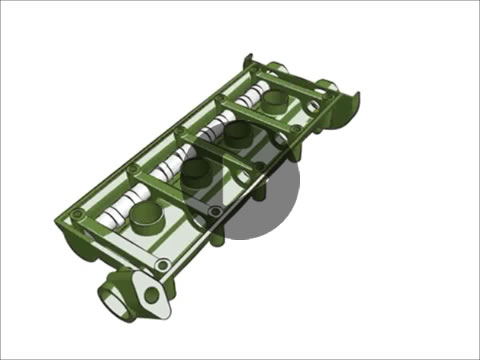 Monolythic Valve Cover
This optimized assembling method is made possible with SBHPP compounds thanks to the tight molding tolerances and the excellent thermal resistance of the thermosetting materials
The camshaft (shaft + cam elements) can be assembly directly on the valve cover. The shaft is cooled down at very low temperature whereas the cams are heated up and positioned over the molded valve cover.
SUMIKON®, DUREZ® and VYNCOLIT® reinforced phenolic compounds offer excellent processability, and provide an excellent balance of heat resistance, surface hardness and finish.
In combination with the monolythic valve cover concept our compounds offer weight reduction up to 45 percent compared to die cast aluminum.
The high creep resistance of these materials allows designing without insert.
Function integration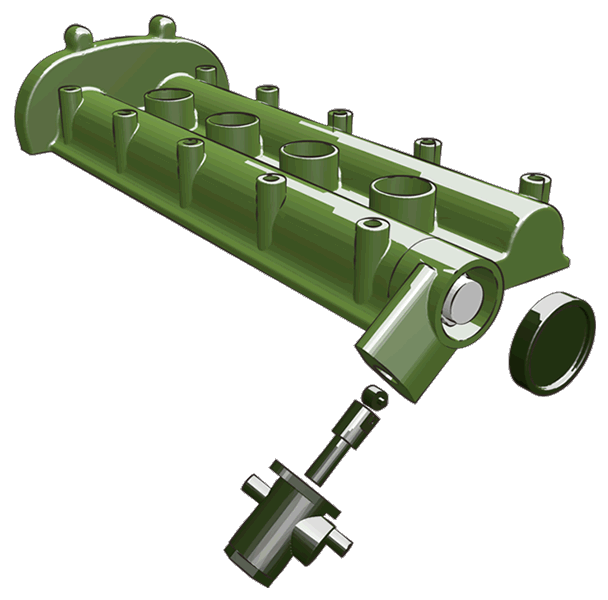 The excellent moldability of the SBHPP thermoset materials allows for complex designs with integration of function's like the high pressure direct injection pump.
Due to the excellent chemical resistance to several automotive liquids like engine oil, fuels, cooling liquid… function integration is easily feasible and results in lean design with lower cost.
In general, tooling investment cost for SBHPP molding compounds compared to aluminum die-casting is 3 to 5 times lower.
Glass-fiber-reinforced phenolic composite withstands numerous technical challenges.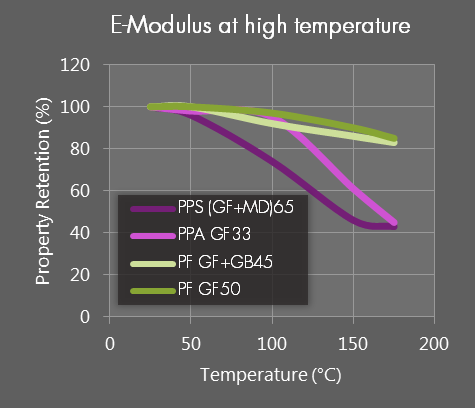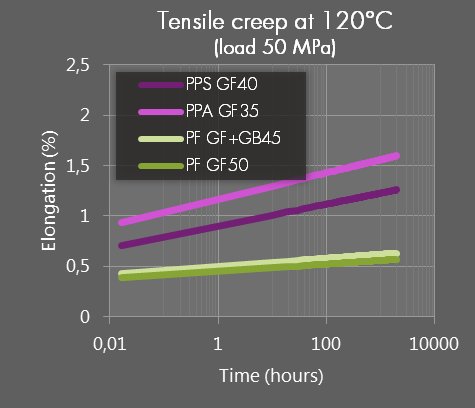 ---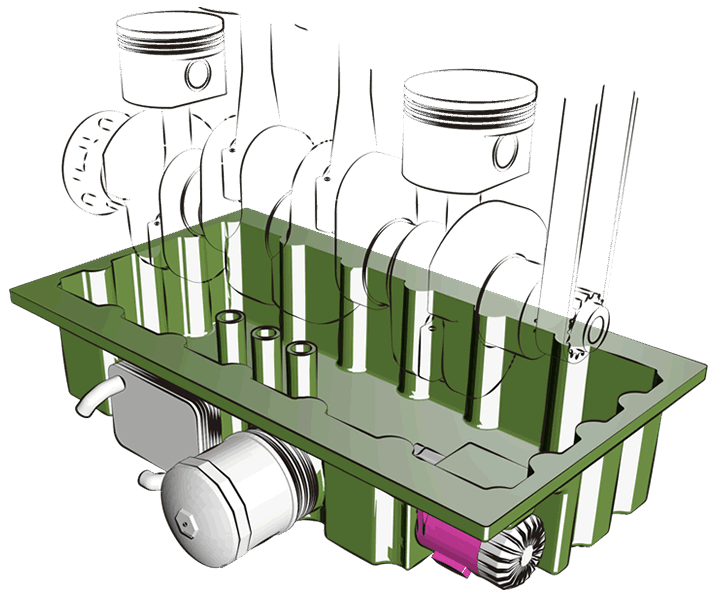 Oil Sump Module
The concept of a composite Oil Sump Module (OSM) with integration of several functions like the oil pump, oil cooler and oil filter has multiple benefits.
Due to the integration, compact design is possible resulting in better and easier control of the oil flow and oil temperature thus helping to reduce fuel consumption and thus lower CO² emissions. Also significant weight reduction (up to 45%) and cost reduction can be realized.
The concept of the composite OSM is based on the use of the SBHPP POROPHEN® compound for the structural parts (oil sump) combined with the SBHPP short fiber Engineering Thermoset compounds for the functional applications like the oil-pump, -cooler and –filter.
Function integration
SBHPP Engineering Thermoset compounds are very well suited to replace sintered metal and aluminum in oil pumps were thermal-, mechanical- and chemical resistance combined with the need for tight tolerance are key requirements.
Design flexibility and excellent moldability allows for new innovative pump concepts resulting in lower part cost and improved performance helping to reduce fuel consumption and CO2 emission.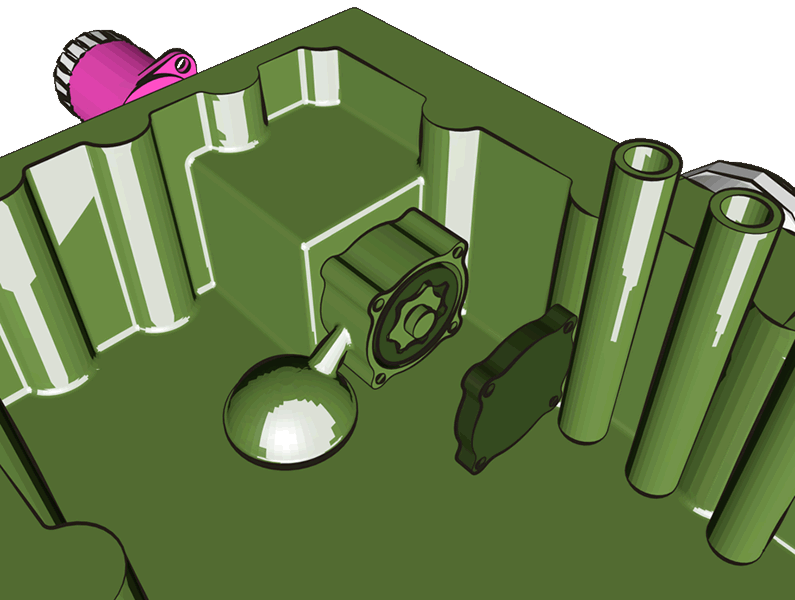 ---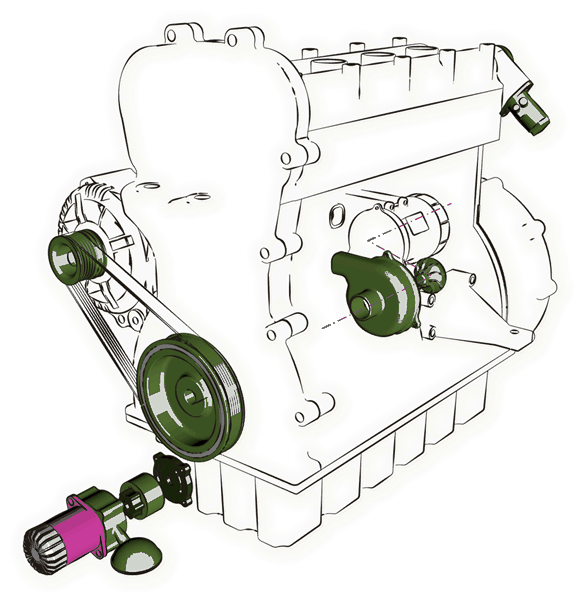 Other Engine Components
Pulleys
Lower weight, no balancing, no corrosion protection and freedom in design are key benefits of SBHPP Thermoset compounds for pulley applications.
Oil Pumps
SBHPP thermoset compounds are in use where no thermoplastics were able to go before, namely in the hard of variable oil pumps. Thanks to the unique combination of chemical and thermal resistance combine with a low CTE, SBHPP Thermoset compounds are used to replace sinter metal components resulting in lower weight and cost combined with improved performance.
High Pressure Pumps
Lower weight, function integration, smoother surface and near tolerance molding capability allows for lower cost, lower weight and improved performance. SBHPP Thermoset compounds also have excellent chemical resistance against all known fuels and bio fuels.
Water Pumps
For over a decade, several OEM's in Europe are using composite water pumps made out of SBHPP Thermoset compounds. From standard water pumps over mechanical drive, variable water pumps to fully electrical variable water pumps are in use today. Lower weight, cost saving and especially the higher yield due to a very smooth internal surface are the key advantages for using SBHPP thermoset molding compounds for engine cooling applications.
---
Carbon footprint & Innovative Recycling Concept
Energy Savings
Compared with other plastics SBHPP molding compounds require a low energy input value during manufacturing and transformation. If one relates energy consumption to the properties obtained, e.g. stiffness, then the unique position of thermosetting molding compounds becomes even clearer.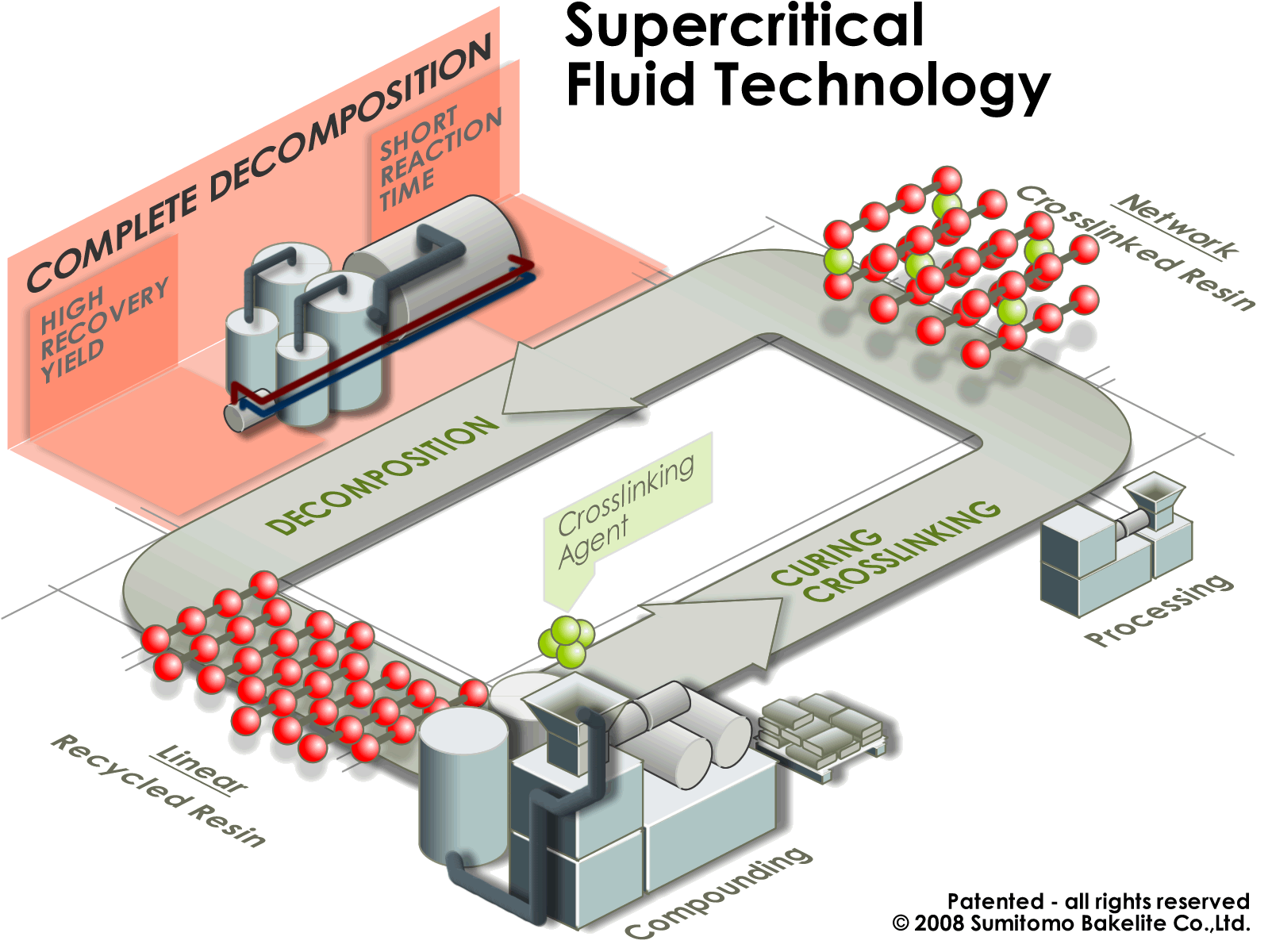 Innovative Recycling Concept
Among several recycling methods, micronized recycle powder (as filler) or combustible (cement industry) are mostly used for thermoset parts. However none of them are able to significantly save fossil resource and reduce CO2 emission.
By developing the Chemical Recycling Technology, using supercritrical fluid, we are able to recover the raw materials such as monomers, oligomers and reinforcements (fibers) in their initial state.
&nbsp